Meet Our Team
---
Front Office Team
---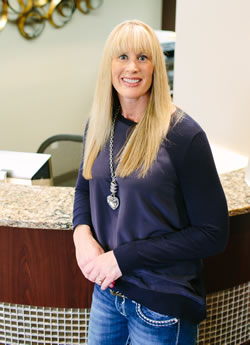 Katie
Office Administrator
Katie is Dr. Walsworth's wife. She helps out part time in the office paying bills, organizing and planning events in the community, and performing administrative tasks. Katie is a graduate of Cedar Falls High school and has a bachelors and masters degree from UNI. She is a special education teacher at Cedar Falls High School. Katie and Dr. Joel have three little boys who keep them busy at home. Katie is an extremely organized and talented person who helps keep things running smoothly at the office.
---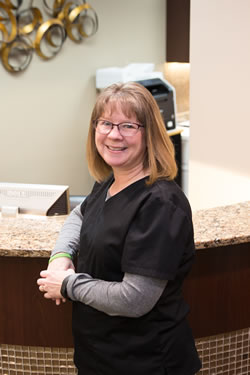 Audrey
Practice Coordinator
Audrey oversees the day to day administration of the office. She is our primary person checking patients out, making financial arrangements and scheduling upcoming appointments. Audrey joined our office in 2016 with over 25 years of working in the dental field. She grew up in Evansdale and graduated from East High in Waterloo. Audrey and her husband, Dale reside in Dunkerton and have a daughter Madison who graduated from UNI in 2018. Audrey loves spending time with her extended family, reading, kayaking and camping.
---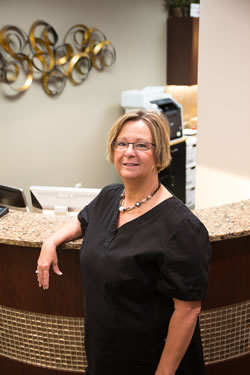 Donna
Financial Coordinator
Donna grew up in Cresco, IA. Graduated from Hawkeye Community College in 1978 with a degree as a Registered Dental Assistant. Donna joined our team at Walsworth Family Dentistry in 2015. She brings over 35 years of experience to our office as both a registered dental assistant and front office representative . Donna can assist you in understanding your dental insurance so that you can utilize your benefits that best fits your treatment needs. She is always ready to answer any questions about cost of treatment and financial options available. Donna and her husband Garry have been married since 1979 and have 3 children and 3 grandchildren. They enjoy spending time with their family and friends and the occasional round of golf. They are Iowa Hawkeye and Chicago Cub fans.
---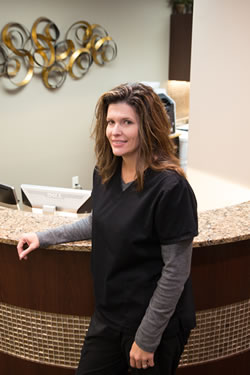 Tammy
Receptionist
Tammy is our receptionist and will often be the first person you speak with. Tammy takes great pride in getting to know the families who come to our office and making their experience as easy and comfortable as possible by assisting with forms, scheduling appointments, and setting up referrals. Tammy graduated from Hawkeye Community College's dental assisting program and has been in the dental field for over 20 years. After living in the Waterloo area for nearly 20 years, Tammy and her husband Joe, two sons, and dog relocated to Waverly in 2012. When not running to sporting events she enjoys camping, reading and attempting to golf.
---
Clinical Team
---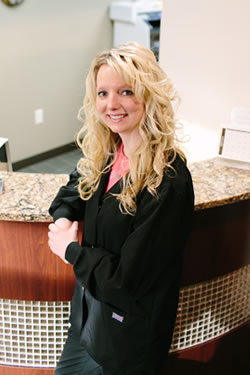 Mandy
Clinical Care Coordinator
Mandy works chairside along the doctors and hygienists assisting for a variety of procedures. Mandy additionally oversees clinical ordering and equipment maintenance for our office and ensures the clinic is running smoothly. Mandy received her degree in 1998 in dental assisting and later acquired her expanded functions certification. She became apart of our team in 2004.
Mandy and her husband, Josh have two beautiful sons. In her spare time Mandy enjoys spending time with her family, running, biking, & kayaking. Mandy is an extremely empathetic and caring person. She treats all her patients like family and is great at putting them at ease.
---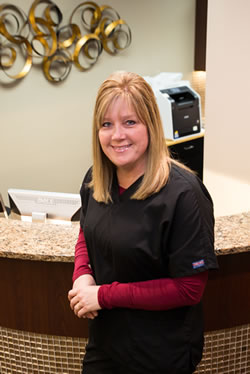 Tracie
Expanded Function Dental Assistant
Tracie works chairside with the doctors for a variety of procedures along with making radiographs, taking impressions, and sterilization of instruments. Tracie is a graduate of Hawkeye Community College in 1991 with a degree in dental assisting. She acquired her Expanded Functions Certification and became part of Walsworth Family Dentistry Team in June of 2015.
Tracie and her husband Ben reside in Waverly and have 3 sons. In her spare time she enjoys watching her children play sports and participate in school activities, along with spending time with family and friends.
Tracie is a people person and loves working with and learning about our patients. She enjoys helping patients feel better about their dental care by providing a calm atmosphere and getting to know them on a personal level.
---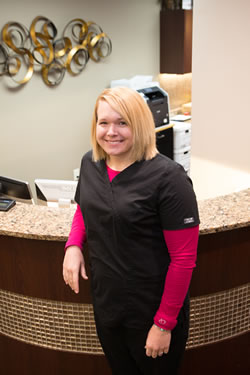 Rachal
Expanded Function Dental Assistant
You can find her assisting chairside. Rachal grew up on a farm near Belmond, Iowa, and graduated from Belmond-Klemme High school in 2004. She attended NIACC in Mason City, and later graduated from Hawkeye Community College as a Registered Dental Assistant in 2009, she completed expanded functions training in 2012. Rachal resides in Waverly with her husband Alex and three boys. In her spare time she enjoys spending time with her family, country music concerts and being outdoors.
---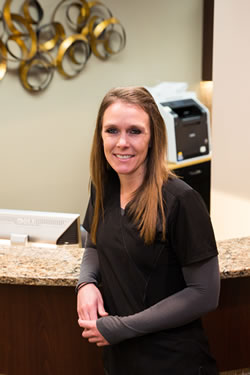 Emily
Registered Dental Hygienist
Emily grew up in LaPorte City, and graduated in 2007 from the hygiene program at Hawkeye Community College. Emily and her husband Justin were married in 2007. Emily has a daughter Rebel and son Briggs. She resides in Janesville and enjoys spending time with her family. Her hobbies include family time and playing with Zoey our dog.
---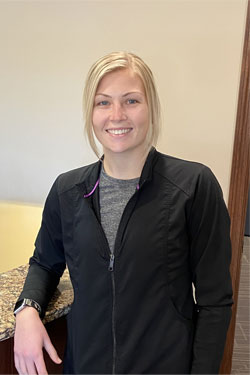 Makaelyn
Registered Dental Hygienist
Makaelyn works with our patients performing routine cleanings, periodontal therapy, dental sealants, and performing local anesthesia. She additionally helps educate patients about their dental conditions and giving oral hygiene instruction. Makaelyn grew up in Zearing, IA and graduated from Colo-NESCO high school in 2016. She went on to graduate from the Hawkeye Community College Dental Assisting Program in 2018, and the Dental Hygiene program in 2020. Makaelyn currently resides in Parkersburg with her Fiancé, Jared. She will be getting married in June, 2021. In her spare time, Makaelyn enjoys boating, shopping, spending time with family and friends, and cheering on the Iowa State Cyclones.
---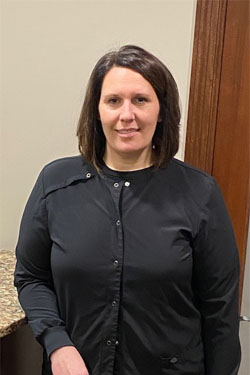 Jennifer
Registered Dental Hygienist
Jennifer grew up outside of Lake Mills. She graduated from Hawkeye's dental hygiene program in 2007. Her and her husband, Ryan live in Denver with their three children Kasey, Krisanne and Brody. She has a labradoodle, Quincy, that she adores. She loves spending time with her family, attending her children's activities, watching true crime shows, and working on new projects with her husband around their house.