Meet Dr. Corcoran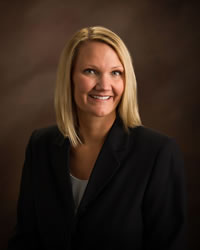 Jessica Corcoran, D.D.S., joined Walsworth Family Dentistry in January 2018. Dr. Corcoran graduated from Harris-Lake Park High School and received her Bachelor of Science degree from Iowa State University in Nutritional Science/Pre-Medicine. She went on to obtain her Doctor of Dental Surgery degree from the University of Iowa. Dr. Corcoran practiced dentistry for twelve and a half years in north-central Iowa where she has enjoyed seeing patients of all ages.
Dr. Corcoran enjoys several aspects of general dentistry and has a special interest in cosmetic dentistry. She is certified as an Invisalign provider and has found this to be a wonderful option to offer her patients.
---
Some of Dr. Corcoran's awards, activities, and professional affiliations include:
Iowa State University Alumni Association full tuition scholarship and lifetime membership
Iowa State University Honors Program
ISU College of Family and Consumer Sciences Student Council
President of Dormitory Housing Association
ISU College of Family and Consumer Sciences Triglyceride Research Team
Christian Dental Society: mission trip to Kingston, Jamaica
American Dental Association
Iowa Dental Association
Donated Dental Services participant
---
Dr. Corcoran and her husband, Chris, are the parents of three children, Avery, Riley, and Chase. The family enjoys several different sports and spending time outdoors at the Mississippi River. She also enjoys experimenting with new recipes in the kitchen, traveling, and spending time with her extended family. Dr. Corcoran and her family are excited to join the Waverly community in 2018!